If you ever want to divide the home renovation community then this is the question to ask. Is Farrow and Ball paint worth the money? And if not, does colour-matching actually work?
I've been using the real deal Farrow and Ball paints for over twelve years. I've also been using colour-matched paints for years and years, from numerous paint suppliers. From my anecdotal evidence I've seen good results with both. I've also seen terrible results with both.
But what I have never done is taken the time to conduct a more exacting experiment to see how close-a-match colour-matching' achieves. So I purchased five genuine F&B testers along with the five same colours colour-matched by Johnstones.
Here is what my little experiment, time, and experience, has taught me.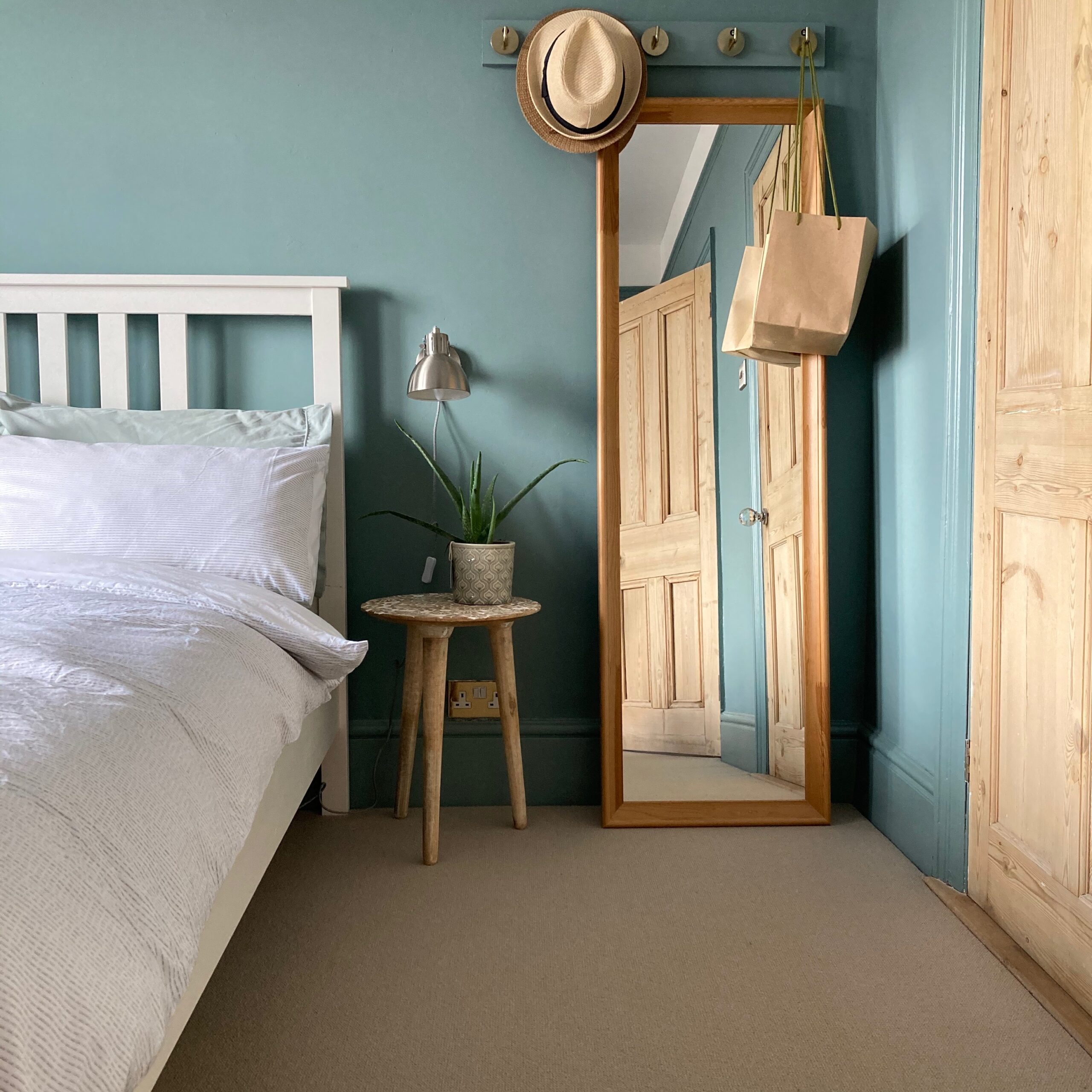 Oval Room Blue by Farrow and Ball. Room design by Paper Room Interiors. 
IS FARROW AND BALL PAINT WORTH THE MONEY?
1. YES – IF YOU WANT THE EXACT COLOUR
FARROW AND BALL COLOURS CANNOT BE REPLICATED
Okay, you can get pretty close but don't tell me you can't detect the difference between these colours? Most of the replica colours are darker and some appear completely different. Slipper Satin has a much more yellow tone. Setting Plaster is more peach and much less pink. And the 'Churlish Green' imposter is truly disgusting.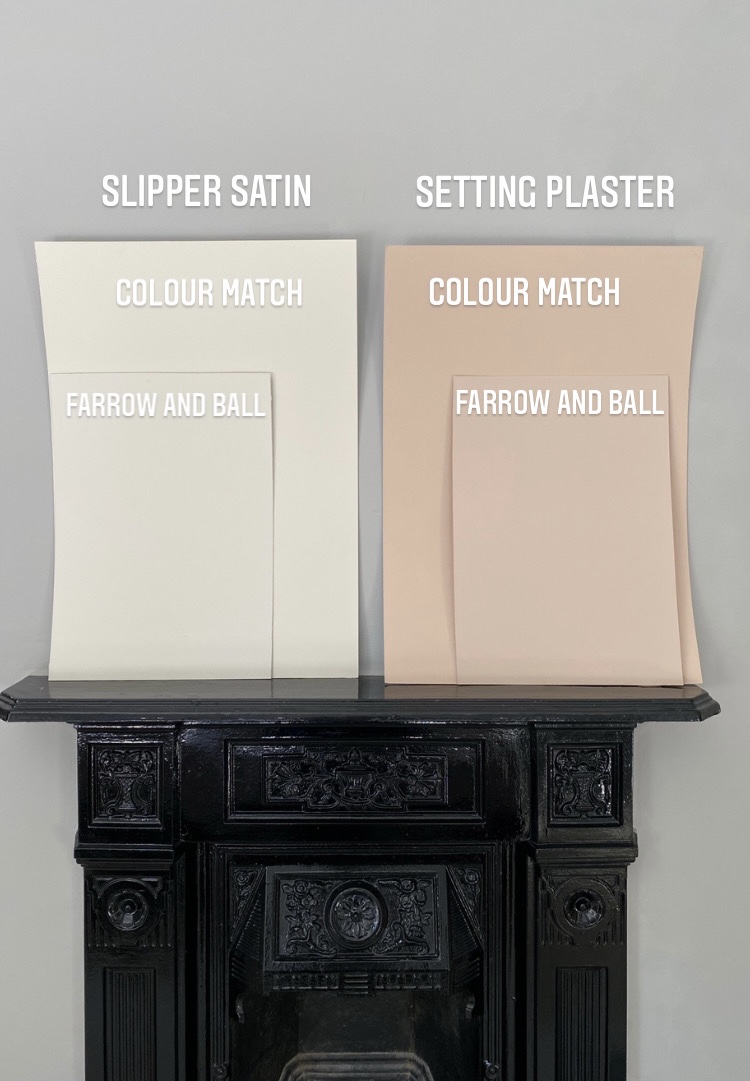 I nearly fell over when my, normally totally disinterested, husband pointed to a card and said "I bet that's the real Farrow and Ball". "WHAT?! WHY?" I demanded to know immediately. "Because it has more depth to it" (jaw hits the floor). If an interiors Buffoon like him can work it out, then Johnstones aren't fooling anyone.
The reason Farrow and Ball charge the Earth is because they make their colours from the Earth. They don't just whack in synthetic colours and bulk it out with low-grade fillers. Their pigments are created from natural substances that can't be replicated synthetically.
So if you have really fallen for the F&B colour then I'd recommend going with the real deal.
2. YES – IF YOU LOVE THE CHALKY FINISH.
It's what they're famous for! All those natural, organic pigments not only create rich and beautiful colours, they also create a sublime finish. So if you love that matt, chalky, velvety finish that responds to the natural light then again, I'd go with the real deal. Particularly if it's for a decadent space like a bedroom or grown-up living room. But if you have high traffic areas that need to stand up to being bashed, scraped and snotted on then you might want to look for a tougher brand.
3. NO – IF YOU WANT TO STAY FRIENDS WITH YOUR DECORATOR.
Utter the words "Farrow and Ball" and most decorators will tut, sigh, groan, roll their eyes, and if they're really impolite, begin a verbal torrent of abuse. They just don't like it. Fact. They say it's too thin, difficult to apply and not worth the money. So if you want an easy life with your decorator you are better off colour-matching.
4. NO – UNLESS YOU ARE PREPARED TO APPLY THREE COATS.
If you use Farrow and Ball you will need to apply three coats. It's the honest truth. So if you love it and want to use it, then you need to prepare for this. It's going to cost you more in paint and more in time. So make sure you feel it's worth it.
5. YES – IF YOU ARE GOING FOR A NEUTRAL
This may surprise you but in my experience colour matching to neutrals is where I have seen the worst results. Most people think you can't really go wrong with an off-white or a light neutral. But these are actually some of the most complex colours, and so trying to fake them brings bad results. An earthy, yellow based natural that makes you think of glistening wet sand, can suddenly look more like nicotine stained walls when colour-matched.
6. YES – IF THE BRAND INSPIRES YOU
I sometimes wonder what would happen if everyone colour-matched. Well obviously Farrow and Ball would cease to exist, and then what? Who would inspire us? Who would come up with those glorious new colours every few years? Who would curate those beautiful colour cards we love? Who would deliver those most inspirational marketing images that make us up our interiors game? Designer paint brands have inspired me so much over the years that I feel I owe it to them to remain loyal.
7. ONLY IF YOU THINK YOU ARE GETTING VALUE FOR MONEY.
Everyone's value for money is subjective. We all have a budget to work within, and sometimes there are higher priorities in a project than what we put on the walls. For me personally, designer paint is totally worth the money,  but when it comes to buying clothes I'm happy to shop in Sainsbury's. We all have our standards.
What's your experience of Farrow and Ball paint. Do you love it or hate it? Join the discussion below.
If you would like help choosing paint colours then checkout our colour consultancy service. I offer colour consultations online and in person across Southampton and Hampshire. Never make a bad colour choice again!
Sarah x